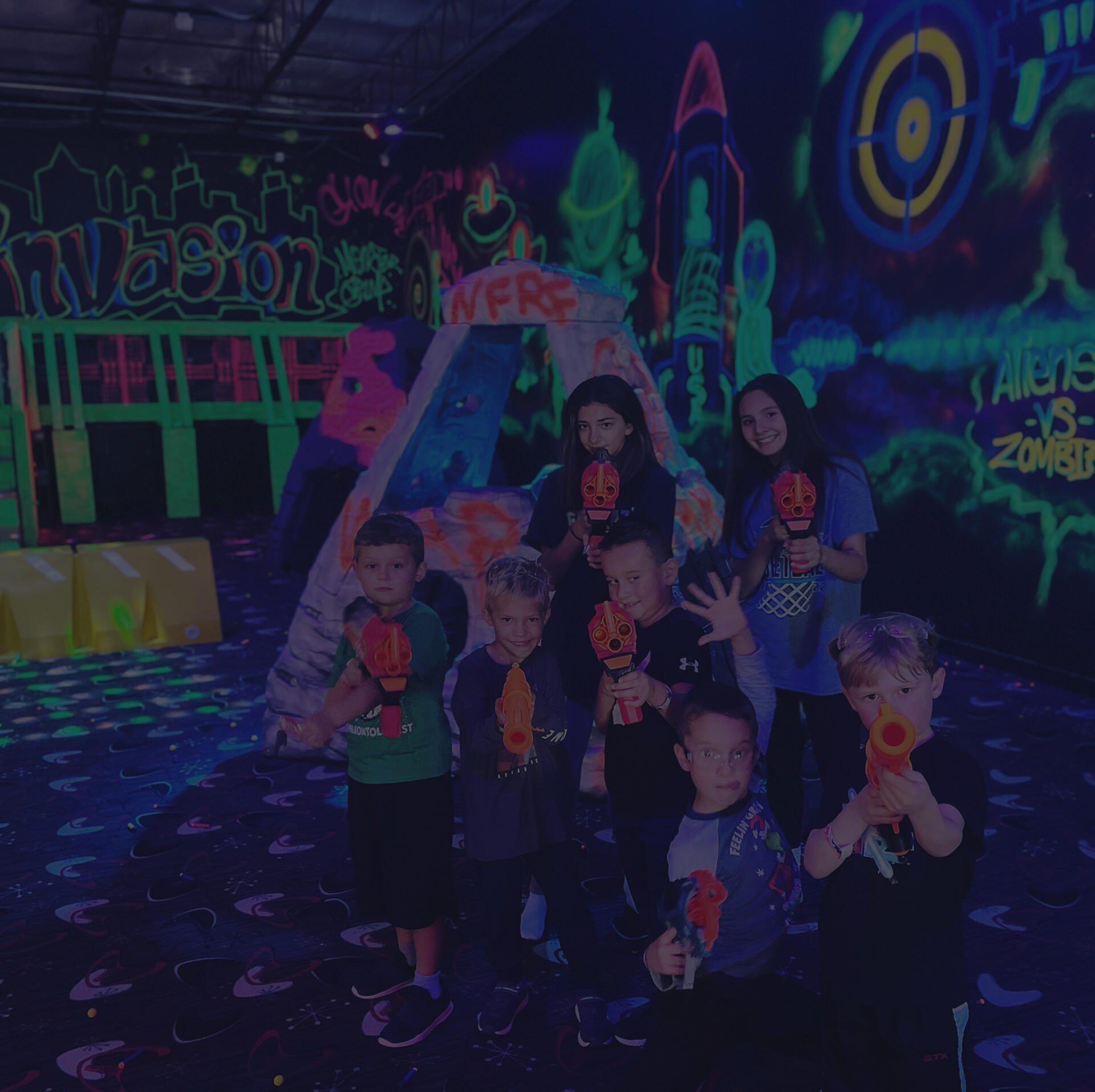 ​
What's the difference between a birthday party and a private party?
The birthday party is the regular style party, other parties are going to be there sharing the facility. The private parties are unique, you get to rent the whole entire 12,000 SQFT facility for just your party, no one else will be sharing it with you!
Do we get our own party room?
Our concept is open, you'll get a table that's big enough for your party.
Can we bring outside food and drink?
For Open Play you can bring drinks and snacks. For parties and events you can cater or bring in your own food, cake, drinks and snacks.
What kind of drinks do you offer?
We don't offer drinks but you can bring in your own drinks. For parties 21+, please check with us on BYOB policy.
Can we bring cake or cupcakes?
Cake or Cupcakes are allowed for Birthday Parties but not for open play
Can we bring decorations?
Decorations are allowed for Birthday Parties but not for open play, as long as it doesn't stick to the walls, we have murals that are airbrushed on the walls and it gets peeled off once we stick tape to it.
Can we bring our own nerf guns?
Yes you can, but you'll need to keep track of which guns are yours.
Should we bring our own ammo?
No please don't bring your ammo, we will provide that free of charge. We will not be able to figure out yours from ours.
Do the kids have to wear their COVID masks?
Up to the parents.
What's your COVID procedures?
We sanitize all the guns and goggles after every use, and constantly clean and sanitize all surfaces.
Do you offer other attractions?
Yes. Beyond the Glow-in-the-Dark Warzone, we have bounce houses, air hockey, and other inflatable attractions!
How much are your party packages?
Please visit
our Birthdays page
to learn more about pricing for Area 51 and Area 52 party packages.
What ages are appropriate?
All ages are welcome! This is a family concept, so even the adults play. As for the younger ones, we ask the parents to be always around them to help them out with loading their Nerfs. We start charging from 3 years old.
Do you provide eye protection?
Yes. We provide goggles for our players.
Do you have to have a party to come to Nerfies or can we come in for open play?
You're welcome to come in for open play! Learn more
here
.
Do I need to pay deposit?
A deposit is required for all Parties. The deposit for all Birthday Parties is only $100 and for all Private parties its 50% of the party's worth. You can pay the balance on or before your party's day.
Can I add more players to my package?
Yes you can, we will either charge it per player or offer to upgrade the package to cover more players if its cheaper for you.
Are party package prices just for players, or for all guests?
For open space birthday parties, we only count the players – spectators are free! For private parties, we need to count of all of your guests in advance so we can staff your party accordingly.